Demonic Screen Part 1

English translation of the German titles and and of the voice-over narration

by K. Wyborny and Marcia Bronstein
made for a screening in Anthology Filmarchive New York in 1978,
where the text was handed out before the screening

---
DÄMONISCHE LEINWAND TEIL 1

(Demonic Screen Part 1)
contains (in this sequence):

A CROWD IN THE FACE
HOME SWEET HOME
AUF ZU DEN STERNEN
(Up to the stars)
CHIMNEY PIECE
DAS ABENTEUERLICHE ABER GLÜCKLOSE LEBEN DES WILLIAM PARMAGINO
(The adventurous but luckless life of William Parmagino)
---
Title:

Filmmakers Cooperative shows

---
title:

A CROWD IN THE FACE
c copyright 1968 by Wyborny

voice:
Y - Production shows
Klaus Wyborny and Christian Willig in
A Crowd In The Face
A film by Klaus Wyborny, camera Rainhild Lüders
dedicated to Wenzel Lüdecke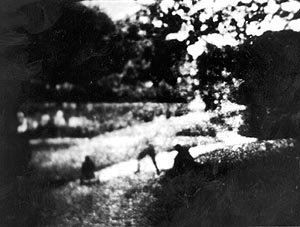 (5 minutes of dialogue from the German dubbed version of Elia Kazan's "A Face in the Crowd" )
---
title:
Filmmakers Cooperative shows

---
title:

HOME SWEET HOME
c copyright 1968 by Wyborny

(the film has a mumbled narration of which only few words are understandable)

voice:

Y-Production presents
Rainhild Lüders, Sybnille Nabel, Helmut N. und Helmuth Gertig in "Home Sweet home"
a film by Klaus Wyborny, music Antonio Vivaldi

***
voice:
When it had come that far, I set out for the green hills of my homeland. The first obstacles I took without difficulties, later it became strained. Finally after many efforts, I made it, exhausted but not without expectations.

(12 minutes of images)
voice:

What I had seen was enough. I decided to try it again, again and again. For some time, however, I had other things to do. In Spain. Border controls lay ahead, and a wide field of tasks. Like someone escaping I left the place of my first memories and somehow I was glad.

---
title:
Filmmakers Cooperative shows

voice:

And finally … after some … decades … it was … achieved … and … an ancient … dream of mankind … was … fulfilled … Reaching for the satrs … became … reality … The participants of the expedition wer selected with great diligence and everything was…

(next word not understandable because of starting music)
titles:


Y-Production presents

Sybille and Susanne Nabel, Joachim Wolf, Joern Voss, Elna Douce and Peter Flak in

"Up to the Stars"

a film by Klaus Wyborny, assisted by Christian Willig.

Dedicated to the Soviet-Astronauts

voice:
This was John.
This was Joel.
And this was Frank.

John fell in love with Janine, and Janine fell in love with Frank. Frank was not sure if he should give preference to Joel or Joanna.

*

After a few months they stopped talking to each other and after a few weeks they started conversing again.

Nothing was to be seen. just stars, an infinite number of stars.
They were lonely but they didn't become quiet.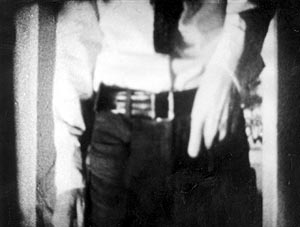 After half a year Frank couldn't stand the situation any longer, he wanted to castrate himself.
The ship's cinema played a film by Christian Willig made at a time when one rarely shot in cinema scope. They all found it funny.

At night Frank died of wound-fever, and Maria was now alone. John had pity for her. He comforted her, and Joel comforted the abondoned Janine. Joana felt treated unjustly somehow, and after half a year they landed on Mars.

It was a planet of infinite beauty, with mercilessly burning radiation. The sand of the wide deserts penetrated through the joints of their spaceship way into their wristwatches.

On the one hudred and fortieth day of their stay on Mars, John made a dreadful discovery. But Joel could prove that he was mistaken.

On their way back there were many complications, basically, however, they were in agreement with each other. And that they knew.

And so they prepared themselves for rearrival on Earth.

They were received with jubilation, and by the time the monuments of them stood, new expeditions made for the long trip. And soon the solar system was conquered by man.

New objectives lay ahead.

---
title:
Filmmakers Cooperative shows
---
title:
Chimney Piece
c copyright 1969/71 by Klaus Wyborny
Musik: Anthony Moore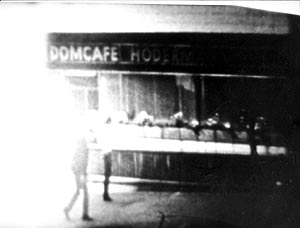 (30 minutes of images with music by Anthony Moore)
---
title:


Filmmakers Cooperative shows

---
title:

William Parmagino's

---
title:

At a time which is not ours, this film was found on a heap of scrap metal, close to Nanterre. It tells of the desparate attempt of a group of people to adjust to the rules others have imposed upon them. E. P.

c copyright 1969 by Wyborny

Janine was born, but she entered at a time in which live seemed hopeless. It was not her fault.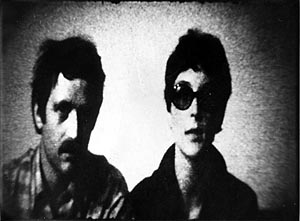 voice:
Her parents mediated to her the knowledge of their culture and Janine understood. And when the first day of her short life was over she knew that she would have to die after five more days, and a slight air of mourning signed her face.

In a meadow in a park she met Martin, and Janine fell in love with him. But when Ann appeared, Martin left her, and Janine decided to return home to her parents. On her way home, she nearly ran over John. He told her that he had no place to stay and she took him along.

When they woke up in the morning, Janine's mother was dead; and when they had breakfeast, her father disappeared.

John showed Janine the palaces of the mighty and Janine was wondering about his wrath. After a while she had a feeling as if time was slipping away from her. She told John. He understood her but he carried on. And then she told him that he had already occupied one day of her life and then she went away.

John waited long for Janine, till late at night, but in vain, she had left him.

In the morning he left the place of remembrance. He wanted to forget Janine and visited Joana who loved him.

When his eyes rested on Joana he could feel her face decaying, and he sensed that his soul was dissolving.

*

John's last day had begun. He said goodbye to Joana and thought of Janine.

In the moment of death he had a vision. He saw a wide grain field and ears bending in the wind, under a sun that was burning unmercilessly. He saw a rainbow floating through the skies, and he knew that he would see Janine never again.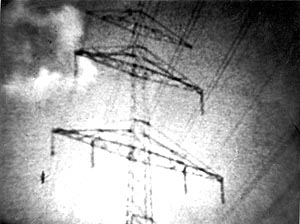 Joana died at night, and in the next morning Janine died, and five days later died their son, and John was forgotten and Janine was forgotten.

Title:


Filmmakers Cooperative shows

When I was still a very small boy there was a dreadful idleness. The ducks were quacking, the cocks were crowing and the church bells were ringing. The war was over and they were about to rebuild it all over again.
title:


William Parmagino's "William"


c copyright 1969 by Wyborny

A film giving joy, a film that tells stories, a film full of poetry, which until now we have only dreamed.

A film about love and death, and full of the mourning we carry within us.

Rosered the sun arose above the Grand Canyon, and William was full of love for Janine, and around evening her hidden smile dissolved into fever.

Effortlessly they had survived on the sinking ship, and he found the separation from Miriam as hard as it had been in Kathmandu. A monk was passing.

Small intellectual essays in the style of Voltaire he wanted to write then, but the Nazis wanted it differently. They put him into a leading position, and forced him to become decisive initiator of those ideas which even today drive the flush of shame into our lips.

A film giving joy, a film that tells stories, a film full of poetry which until now we have only dreamed.

---